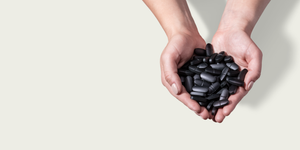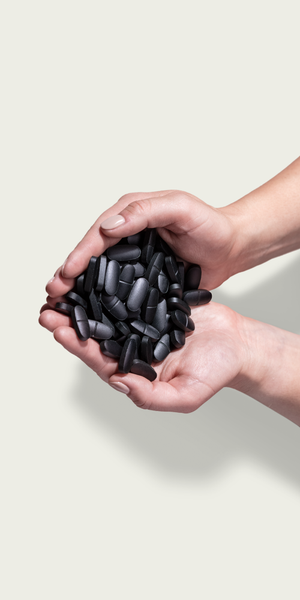 Frequently Asked Questions.
About Mindlift
Mindlift is a first-of-its-kind practitioner formulated supplement that contains a unique blend of amino acids, vitamins, minerals, and plant extracts. 
The targeted blend of plant extracts, including Ashwagandha, Ginkgo, Bacopa, Rhodiola and Cordyceps can't be obtainable through a typical diet. 
Additionally Mindlift contains amino acids L-Tyrosine,  Acetyl-L-carnitine, with the inclusion of Magnesium and B vitamins. 
The formulation of Mindlift has been meticulously designed to incorporate this diverse range of active ingredients, working in synergy to help reduce cognitive fatigue, symptoms of mild anxiety in adults, support mental concentration, and provide a healthy stress response in the body.
How is Mindlift different?
• Multiple supplement groups, all in one
• High doses of active ingredients
• Multiple therapeutic benefits
• Thoroughly researched formulation
• Extensive scientific evidence
• ARTG Listed medicine
• High quality ingredients
• Manufacturing standards GMP
• Environmentally friendly packaging
• Caffeine-free
How does it work?
Ashwagandha is one of the key ingredients in Mindlift and is known to reduce symptoms of stress and mild anxiety in adults. It also helps maintain general mental wellbeing and supports healthy mood balance.
Bacopa is another vital ingredient of Mindlift that helps to relieve symptoms of stress and mild anxiety in adults and supports the body's natural stress response.
In addition, plant extract Ginkgo has been shown to help maintain mental concentration, focus, clarity and reduce cognitive fatigue.
Finally, Riboflavin (vitamin B2) has been included to support energy levels.
When will I feel the benefits?
This really depends on the individual. With some of the active ingredients in Mindlift, you might notice the effects after a few days and it can take others up to three weeks. Keep in mind that plant-based extracts can take a while to build up and work on the body. Best results are generally noticed after two or three months of daily dosing. Unlike other nootropics, Mindlift is 100% caffeine free so you won't feel an instant overstimulation and crash like you do with coffee. 
Why is Mindlift caffeine-free?
Many nootropic products contain natural caffeine which can provide an instant kick, similar to coffee.  Mindlift is 100% caffeine-free to eliminate the risk of increasing symptoms of stress and mild anxiety.  Mindlift is designed to support mental focus without feeling over-stimulated.
Is it backed by science?
All our ingredients undergo an extensive selection process by our team of expert nutritionists, naturopaths and chemists, and the ingredients are backed by scientific evidence to support its health claim.
The Australian TGA (Therapeutic Goods Administration) requires that any product for which therapeutic claims are made must be entered in the Australian Register of Therapeutic Goods (ARTG).
Mindlift is an ARTG-listed medicine AUST  L 370898
Why are the tablets so big?
This is because of the high dosage of ingredients per serve. Ensuring our products represent good value to our customers is one of our top priorities.
Where are your products made?
AusVitality is proudly an Australian owned company, and all our products are made in NSW, Australia.
Mindlift is manufactured in Sydney Australia by a TGA (Therapeutic Goods Administration) licensed manufacturer and laboratory. Manufacturing complies and conforms to the Code of GMP.
Mindlift's ingredients are sourced from local and international suppliers. Product quality is ensured through quality control systems that cover the entire production, from procurement of raw material to manufacturing, packaging, analytical testing and finally to providing valid documentation.
Can you take Mindlift whilst pregnant or breast feeding?
You should always talk to your health professional before taking any supplements when pregnant or breastfeeding.
Does it matter when I take Mindlift?
The best time to take supplements is with food in the morning.
Can I take Mindlift with other medication or if I have a medical condition?
Please consult your health professional if you have a medical condition and intend to take any supplements.
If I don't like taking tablets, how can I take Mindlift?
Mindlift tablets have a break bar to make breaking them in half easier if you struggle to swallow tablets.
Shipping & returns

All orders purchased are booked through Auspost. Orders are dispatched daily Monday - Saturday from our Sydney office.
We offer $7 tracked shipping on all Australian orders. Timeframe 2-6 business days. Express shipping is recommended for Western Australian orders due to occasional interstate delays.
Express shipping is available starting at $8.61 Timeframe: 1-2 business days
Returns
We accept returns of unwanted goods, provided that you give written notice at hello@ausvitality.com and return the unwanted goods to us within 14 days of receipt of the goods, the unwanted goods are received by us in their original condition and packaging and the goods are unused. We will also refund or exchange goods which are damaged in transit and incorrectly shipped. 
Head to https://ausvitality.com/policies/refund-policy for more information. 
Satisfaction guarantee 
We offer a 30 day satisfaction guarantee: If at any point over the 30-day period you decide our products are not right for you, please get in touch with our customer service team and we will honor a 100% money-back guarantee.
Head to https://ausvitality.com/pages/satisfaction-guarantee  for more information.